2014 Conchita Wurst
---
Informations sur Conchita Wurst et sa chanson "Rise Like A Phoenix", avec laquelle elle a remporté l'Eurovision Song Contest en 2014 à Copenhague au Danemark.
2014 Conchita Wurst
13 février 2016, jour de l'Entscheidungsshow – la finale suisse de l'Eurovision Song Contest. Durant l'après-midi, Conchita Wurst répète ses
2014 Conchita Wurst
Vendredi 13 juin à 22h15. La place de la Caserne à Zurich était encore détrempée par la pluie. Pourtant les participantes
2014 - Copenhague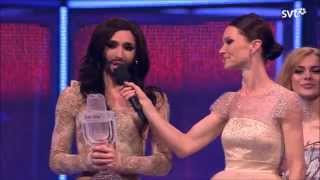 «This night is dedicated to everyone who believes in a future of peace and freedom. You know who you are.